With a changing world more people are looking at cost effective, enviromently friendly way of managing small areas of land. With this in mind RTV, ATV and quad attachments are becoming more popular.
 DUNG BEETLE
The Wessex Dung Beetle MK2 MTX120E is powered by a 5½ hp Loncin petrol engine, and drive is transmitted to the rotor via twin drive belts. A centrifugal clutch allows the operator to engage/disengage the rotor brush from the seat.
Superior strength and yet is lighter than its predecessor
Features a re-designed tipping latch which makes it easier to tip
Powered by a new Loncin engine for performance and reliability
Built in  England
Manufactured with the most modern techniques
Reduced engineering costs means substantial savings
LEAF BLOWER

Details and Specification
The towed blower moves leaves in bulk leaving them ready for collection. The blower in effect, replaces a manual rake. The blower also makes a simple task of moving leaves from flower beds, edges of drives and pathways etc.
Hand conversion handle is supplied as standard
Specification
Engine: 9.0hp Honda Petrol Engine, manual start
Wheels: Pneumatic, c/w bearings, 15/600/6
Fan Diameter: 600mm (24″)
Width: 750mm (30″)
Length: 1000mm (40″)
LARGE CAPACITY TRAILED COLLECTOR
This large capacity trailer has been devolped by SCH to tow behind tractors having the description known as 'twin cut'.
These tractors have a centre rear discharge blowing the cut grass/leaves into a limited size collection hopper. Frequent emptying is extremely time-consuming and frustrating.
The TRCL greatly increases the collecting capacity and therefore larger areas are collected in one fill, quicker, time saving and a great cost saving in labour.
The powerful motorised fan unit mounted on the front of the TRCL sucks up the green waste from the cutter deck and propels it into the trailer. The trailer has a low centre of gravity, which makes it extremely stable on hilly ground. A deflector plate on the discharge shoot is adjustable for even loading of different kinds of material. The trailer having a low centre of gravity is not able to be tipped for emptying, however a web strap anchored at one end, when pulled removes most of the waste from the TRCL via a large rear hinged tail gate. Wide profile pneumatic wheels greatly reduce wheel markings on soft ground. The TRCL can also be used on level tarmac and gravel surfaces.
Dimensions
Cage Size
Width 890mm (35″)
Height 1120mm (44″)
Length 1580mm (62″)
Overall Length 3050mm (120″")
Blower Diameter 530mm (21″)
Engine Size Honda 5.5Hp
Suction/delivery hose 200mm (8″)
Side discharge cutter decks can be fitted with a 'boot' to accept the collection hose.
Stock Feeder – Imagine…No more bags and no need for troughs
A Quad-X Stock Feeder takes the hassle out of feeding. Without it, feeding stock involves time spent hauling bags of feed around and getting jostled by stock as you try to make it to the trough.
The Hopper has a capicity of 350kg allowing you to feed your entire stock in just one fill, saving valuable time. the ground driven drum Stock Feeder distributes feed in piles 6ft apart and allows you to adjust the feed rations from 1/2kg to 2kg. The electric model features a drop counter, and provides excellent ground clearance.
When used to feed Ewes in lamb, the stock Feeder helps to save foetal loss by doing away with the crowding and shoving at the trough giving each animal a fair chance at the feed.
DUMP TRAILERS
Engineered for strength and durability, with farmers, ground care, contractors, landscapers, amenities and equestrian customers in mind.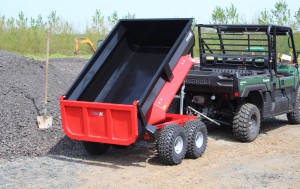 Quad-X have developed the dump trailer for use with larger ATVs and Utility Vehicles (UTVs) or with compact tractors.  A hand held pump is available to assist with the tipping.  Optional hydraulic tipping mechanism is available – tip at the push of a button, while compact tractors use the tractor hydraulics to tip.
The pivot bogie suspension allows for easier towing over uneven terrain giving extra stability, with knobby flotation tyres making it suitable for wet conditions, and a swivel hitch for safety.  The body has been designed for maximum strength using alloy material to keep weight to a minimum.  Greasable bushes are used for long life.
Using our extensive knowledge of ATV equipment, the Quad-X engineers have considered the finer details to ensure that the trailer design creates less drag when tipping a large load from the 1000 Litre capacity dump trailer.
SPREADERS
The range of Quad-X Plastic coated sowers are ideal for spreading a variety of fertiliser and grass seed. These ground driven sowers have been designed with contractors in mind, for frequent use and are extremely durable thanks to a plastic coated finish, stainless steel components and double sealed bearings. A plastic coated finish provides excellent resistance to the corrosive nature of fertiliser.
These sowers can be towed behind a quad or any vehicle with a 50mm tow ball. Fitted with flotation tyres they are ideal for sowing on soft ground or hard to reach areas when a tractor and sower are not suitable. With a wide wheel base they are very stable machines. The plastic coated sower is available in kit form or assembled.
Available in 350kg, 7-bag capacity with optional extension side available to increase the capacity to either 500kg/10 bag or 600kg/12bag
This fertiliser sower is 350kg however if you work with big fertiliser bags you can opt for the extension sides to increase your sowers capacity to either 500kg or 600kg.
Muck Spreaders – Avoid Huge Muck Piles!!
The daily task of Mucking out outhouse and stables can quickly become an unwelcome chore. Quad-X has developed a range of Muck Spreaders to help you avoid huge muck piles.
Our innovative design has allowed us to develop the Equi Muck, The Muck Junior and the Muck Master.
It is handy, cost effective and will allow you to spread your own manure, avoiding the need for a contractor, which can be expensive and often cause damage to the ground when heavy machinery is used.
230L Towed Sprayer
Suitable for use with all vehicles with a 50mm tow ball!!
230L Towed sprayer which is suited to ATVs, utility vehicles and compact tractors. It is a multifunctional towed sprayer which can incorporate existing Quad-X boom technology such as the precision, widespray, anti-drift and boomless nozzles up to 30ft/9m.
Option of an economical 5.5hp compact Briggs & Stratton engine which has a low fuel consumption rate. This also comes with a self fill option where the tank can be filled from the river avoiding tedious trek back to your yard to fill from the tap.
The 230L towed sprayer can also be purchased with the option for doing low pressure and volume washing.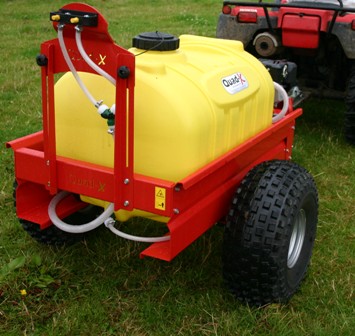 HARROWS
Quad-X harrows are 3 way harrows, manufactured from a 11mm high-tensile steel. They have been developed specifically to suit ATVs / UTVs (other standard harrows projection and angles are suited to tractors which travel more slowly).
With a Quad-X harrow you have peace of mind that you are not wasting your money or your time. They are ideal for :
grass harrowing
levelling horse arenas
removing moss
seed or bed preparation
horse manure spreading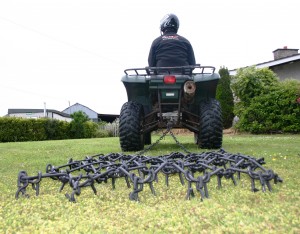 Suitable for golf courses, beaches, equestrian centres and football pitches.
MENAGE GRADER
Due to the increased use of synthetic materials such as rubber and fibre surface mixes, the focus and development of this machine has been on much more than just levelling the arena.
While most current systems use trailing tines, Quad-x engineers have challenged this with their advanced protruding conditioner that lifts compacted subsurface material and aerates this to the surface.  Superb surface condition results have been achieved due to specially shaped advanced break up.  The conditioners also remain in the material even with much larger break out forces associated with freezing conditions.
With an improved larger capacity, the levelling blades allow more material to be carried, especially useful for dealing with material build up around the edges.  The smooth profile of the blades where contact with the surface is made allows for a much smoother finish.
The adjustable rear spiral crumble roller ensures that more than one edge is touching the ground at any one time, providing a light unsymmetrical compaction system that doesn't seal the surface. This allows free drainage, and assists in maximising hoof support.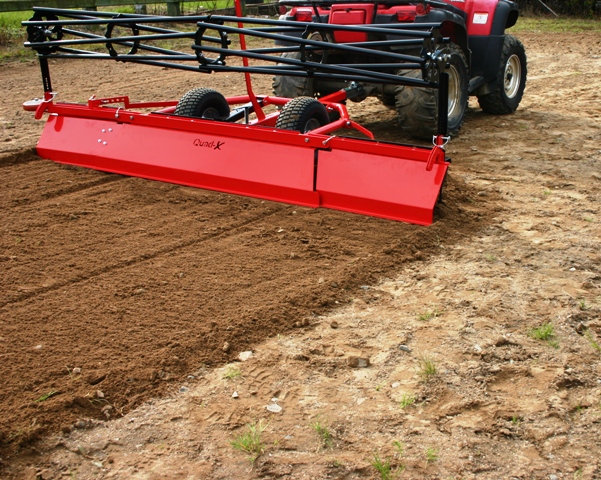 The result is an unrivalled surface evenness, on all surfaces.
AERATORS
Aerators are used extensively by Organic Farmers as they allow surface water to drain, stimulating root growth and encouraging absorption of nutrients into the soil for better grass growth.
The Blades are specially designed to allow oxygen to get to the roots which helps to improve growth rates for higher yields and enhance grazing quality.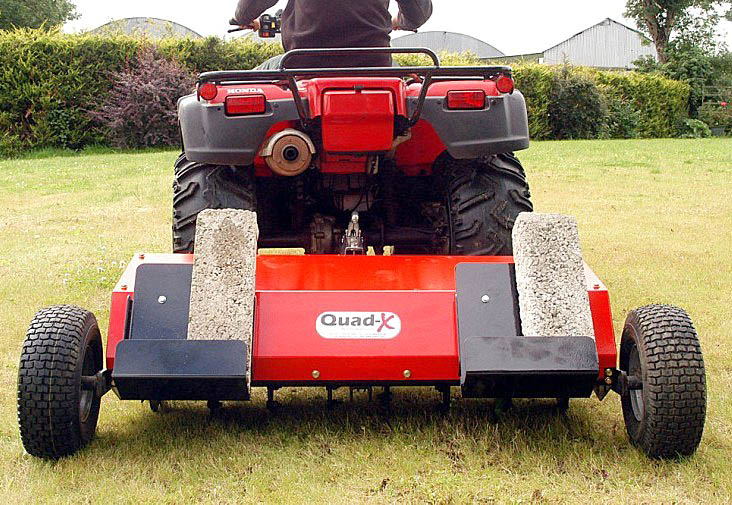 This system is unique in that you don't have to buy special weights for this machine.
ROLLERS
Designed for paddocks, playing fields, landscaping and other ground maintenance applications. It is manufactured from heavy duty materials with adjustable weight to ensure precision compaction.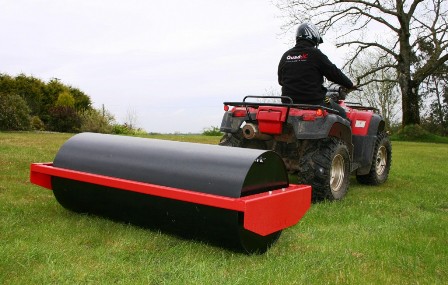 The Roller can be used with any vehicle with a tow hitch.
SWEEPER
The Quad-X ATV Sweeper is innovatively designed to make yard upkeep easier. It is a very light yet strong machine, suitable for 2 wheel drive quads. It can clear large areas in no time, ideal for road cleaning after crop removal from field.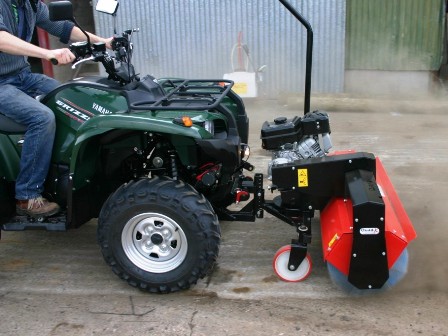 YARD SCAPPER
A Quad-X ATV scraper is the ideal solution to yard and outhouse upkeep, fitted with heavy duty rubber to prevent damage to surfaces. Optional rubber sides are available for extra protection. The high tensile steel frame is designed for long life.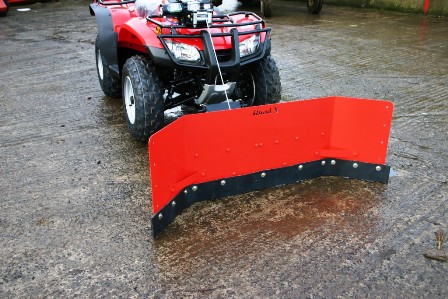 The yard scraper is 1.3m wide and is ideal for getting into narrow areas.
THERE ARE MANY MORE ATTACHMENTS SO IF YOU REQUIRE SOMETHING DIFFERENT PLEASE CONTACT US